A custom shower enclosure is a unique and ideal way to update your bathroom while giving it your own sense of style. When first designing your custom shower enclosure, keep in mind the outcome you want and the specific aesthetic details you wish to maintain. Designing a custom shower enclosure can be a daunting task, but these 10 tips will help guide you through the process.
1. Spacing
The first tip for designing your custom shower enclosure is choosing the most efficient area for your new shower. Make sure you select an isolated space where the shower will be watertight and can be easily accessed.
2. Measuring
Planning is one of the most crucial steps in designing a custom shower enclosure. Choosing a dynamic layout for your new shower while keeping costs at a minimum is both beneficial in the long run and in the short run. It is essential to know which angle your shower enclosure will be built around so you can plan ahead and buy the right materials. Most shower fixtures accommodate 90, 135, or 180 degree angles.
3. Enclosure Support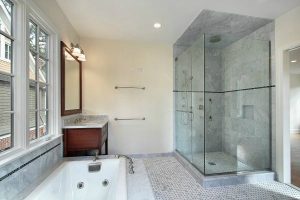 Before beginning the construction process, it is imperative that the wall that the hinged door will be attached to has the proper studding to support the shower door. Ideal studding would consist of two 2×4's, but one 2×4 can work as well. For best results, use wood studs where the door hinges or panels will be placed.
4. Wall and Door Alignment
To prevent leakage, make sure that all walls meeting your glass shower door or glass panels are strictly vertical. Walls that are not vertical will cause gaps and uneven joints which leads to water seeping out.
5. Glass Panels
When designing your shower enclosure, see that each glass panel is at least 4½" wide and the door is at least 22" wide, but no larger than 36" wide. These measurements correspond with the materials and implements that are required to construct a shower enclosure.
6. Avoid Breaking Glass Tiles
To prevent the breakage of glass tiles, bypass any designs that require mounting door hinges and glass clips onto glass tiles.
7. Precision
In order for your custom shower enclosure to look clean and even, you must take caution when installing any counterparts of your enclosure that interfere with soffits, which are the eaves that run along the top of your shower. The soffits must align precisely with the angles of the curb for your enclosure to appear symmetrical.
8. Shower Curbs
Shower curbs are a great way to prevent water leakage, but they must be composed of the right materials and installed correctly. The most efficient shower curbs and curb tops are made out of pieces of tile, marble, and granite. Shower curbs perform best when installed at a five-degree slope, which allows water to flow freely and quickly towards the drain.
9. Location of the Shower Head
After the shower enclosure is installed, it is important to consider the placement of the shower head. You can minimize leakage by facing your showerhead toward tiled walls or fixed glass panels. Always avoid having your showerhead positioned in front of your shower door unless you have a low-volume water output.
10. Uneven Overhangs
Raised tiles and overhangs can be problematic when they appear in shower enclosures. Raised tiles and overhangs can interfere with the efficiency of the shower door, and they also negatively impact the appearance of the shower enclosure. To prevent raised tiles and overhangs, be precise and take your time when installing tiles around the enclosure.
When designed and installed correctly, custom shower enclosures are an affordable and relatively easy way to give life to your bathroom. With these ten tips, you can design a cost-effective shower enclosure that looks good and works well. Contact Pleasanton Glass for expert advice!