If you are remodeling your bathroom, or thinking of updating your shower door for a newer and more modern look, you have a number of options to choose from when it comes to the look and functionality of your shower door. Glass shower doors are among the most popular shower doors installed today, but even among glass shower enclosures and doors, there are a number of options to choose from.
Here we look at the 4 essential questions you should answer before choosing your new shower door.
What Material Should The Shower Door Be Made From?
Shower doors can be made from a variety of materials, including aluminum, clear glass, plexi-glass or tempered glass. But the majority of shower doors are made from tempered glass. Even amongst glass shower doors, there are a number of different options to choose from. Glass shower doors should consist of 3/8 inch glass thickness for strength and durability and be tempered for use in an environment where it could be exposed to hot water. Apart from these criteria, shower door glass can feature a range of decorative elements, as in the case of patterned glass, frosted glass or painted glass, in order to add design and style aspects to your shower door.
How Should The Shower Door Operate?
The most popular styles of shower doors are sliding shower doors, which slide along a track to open, or pivot shower doors which swing outwards to open. There are also bi-fold shower doors which fold in on themselves and are useful as shower door options in small bathrooms.
For each of these shower door types, there is the choice of framed glass shower doors, or frameless glass shower doors. Whether you choose framed or frameless shower doors depends on what kind of look you are working towards in your shower design, the function of the door, and your budget.
What Look Are You Aiming For?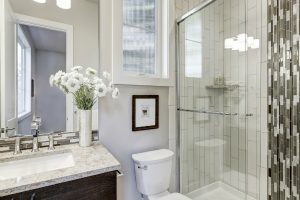 For stunning, sleek and modern looks, you can't go past a frameless shower door for the ultimate in modern design, functionality and appearance. Frameless shower doors don't just look great, they are easy to clean and care for too. However, there are certain bathroom designs and styles where framed shower doors are the better option. Framed doors offer an endless variety of finishes on the trim and glass patterns and styles, and they do a better job of retaining water and steam within a shower enclosure if that's what you're aiming for.
Ultimately, the choice is up to you as the homeowner, keeping in mind the design and style you have in mind for your bathroom, and the budget for your shower.
Do You Want Any Special Features or Design?
Do you want to create a spa-at-home atmosphere with a steam shower? Want to put in a tub enclosure over your shower and tub? Including special features in your bathroom design can make this often neglected space really stand out and shine, but it may require some custom designed glass work to achieve the unique look you're going for.
For the perfect shower door or bathroom design for your home, always choose a trusted and experienced glass company to help you choose, fit and install the right shower door for you.