The latest trends, technology, and material add style and value to your bathroom. Showcasing your bathroom design means choosing sleek, streamlined and modern glass shower doors and enclosures for your bathroom. When it comes to installing glass in the bathroom, quality and safety are essential. Here we look at the specific benefits of choosing Starphire glass instead of traditional clear glass for your shower doors or enclosure.
What is Starphire Glass
Like most people, you may not be a shower glass expert and may not have heard of Starphire Glass. Starphire Glass is specially made from low-iron silica that allows it to be ultra-clear. Standard glass is made of silica that is comprised of approximately one-tenth of 1 percent ferric oxide compounds, which gives it a green tint.
Benefits of Starphire Glass
1. Better Color
With Starphire Glass, under most conditions, you will not be able to detect any coloration to the glass. As the thickness increases, a distinctive and classy sapphire blue color will be noticeable on the edges, but this will not detract from the transparency or clarity of the glass pane itself.
2. High Strength
While some iron is necessary for substantial strength, the lower ferrous content in the Starphire glass makes for a high-quality and clear glass at virtually any size. What this means regarding aesthetics, is that you can have longer and thicker panes in your shower glass enclosure construction, without the glass showing any colored tinting. Starphire glass is also just as sturdy as your standard tempered glass making it able to withstand all of the knocks, bumps, and jostling that it will encounter with regular use.
3. Optically Clear Appearance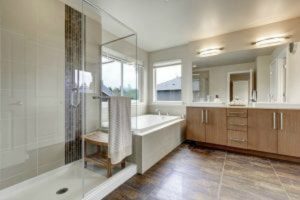 Starphire Glass possesses a 5% greater visual light transmittance than ordinary glass. It also has a high-fidelity color transmission to eliminate the distortions and altered hues that can happen with standard, tempered glass. This all allows you to achieve the crisp, crystal-clear, modern shower enclosure look that is so popular today. The shower walls will appear entirely translucent, allowing you to enjoy your bathroom décor with no discoloration or distraction simply.
4. Reasonably Priced Luxury
Generally, the cost of Starphire Glass is only 10-20% higher than regular tempered glass. However, the benefits of appearance and shower door quality are significant. If you have already invested in the ideal design for your bathroom, you want to be able to completely enjoy and appreciate the true appearance and coloration of your design, without the distorted green tint of traditional clear glass.
Traditional glass can make dark colors look dingy, and it will make white tile appear to have a faint green or even fuzzy color. The appearance of standard glass could lead to a slightly disappointing design outcome, so investing in Starphire glass can add value when it comes to the look of your bathroom.
Starphire Glass can add beauty, strength, and clarity to your glass shower doors, shower enclosures, and steam shower enclosures. Talk to Pleasanton Glass today about upgrading to Starphire glass for added value and performance from your glass shower doors.