A new glass shower door provides an instant makeover for your bathroom by providing a modern, clean, and polished entrance for your shower. Glass shower doors are also minimalistic, letting your bathroom design and color scheme shine. But when it comes to the frame design of the glass shower door, should you choose framed shower doors, frameless glass shower doors, or semi-frameless? Here we look at how to choose the right frame type for your shower door replacement.
Does the Frame Make a Difference?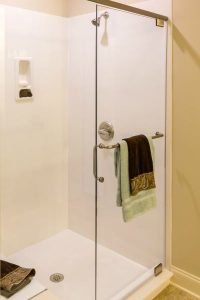 Glass shower doors can be framed, either entirely or partially, or they can be frameless. Both framed and frameless doors are safe, although frameless doors sometimes use slightly thicker, strengthened glass for safety and resilience. The frame you choose for your glass shower door will, more importantly, determine the functionality, appearance, and potentially the longevity of your door. Weighing the different characteristics and strengths of each frame type is essential to helping you make your choice.
Framed Glass Shower Doors
Framed glass shower doors feature a metal frame around the perimeter of the door.
Framed shower doors are cost-effective and easy to install, and effectively seal your shower protecting your bathroom from water and leaks.
The metal frames are usually made of aluminum or a composite which is lightweight and strong.
Framed doors also include a metal track that traps water to prevent leaking, but also requires cleaning occasionally.
Framed pivot doors can only open outward.
Framed shower doors are available in a range of finishes to suit your style and color scheme.
Framed glass shower doors could be the right choice if you're looking for an easy to install, cost-effective glass shower door that you're able to clean regularly.
Frameless
Frameless glass shower doors offer a light, bright, and modern option for keeping your bathroom clean and dry.
Frameless glass shower doors offer a great variety of design options with towel bars through the door or different glass patterns and thicknesses between 1/4 and 3/4 inch.
Because frameless shower doors have no joints, cracks, or connections, they don't trap water, mold, or soap scum and are easier to keep clean.
Frameless glass shower doors don't obstruct the eye-line at all, so your bathroom feels more spacious.
Frameless shower doors can pivot both in and out as they aren't limited by a frame.
Frameless glass shower doors offer cutting-edge style and the most modern and attractive design and are easy to clean with unlimited options for custom fit.
Semi-Frameless
Semi-Frameless doors offer some of the same benefits of both framed and frameless shower doors, involving a framing option that excludes the main door.
Semi-frameless doors are more effecting at trapping water to prevent leaks, while also creating a greater sense of spaciousness and style, with both framed and frameless components of the glass door.
Choosing the right glass shower door for your bathroom depends on many factors such as your budget, your bathroom style, your shower door needs, and your cleaning expectations. It can be helpful to discuss your options with a professional glass company before you decide on your shower door replacement and to find which frame type will suit you best and explore custom options for the frame you want.