Good custom shower doors should be tailored to suit your individual needs and that of your space. They offer style and privacy. Plus, modern, sophisticated fittings can give you complete freedom of design, adding a fantastic finishing touch to your bathroom remodel. Here are some things to consider before you decide if custom shower doors are right for your home.
Measurements, Design, & Fittings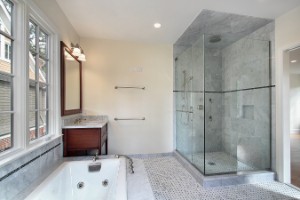 Of course, special care must be taken when measuring and designing new shower doors to ensure proper fitting. When measuring, don't forget to consider the height of the dam (the distance from the floor before the door starts).
Before deciding if the door should swing inwards or out, visualize which option would be more comfortable in your space. An inwardly opening door means that less water would spill out onto the floor, but some people find this design awkward.
The Cost of Custom Shower Doors
Custom shower door prices vary depending on the design you select. Although it may seem more cost-effective, it's important not to DIY this home project. It takes a skilled professional to replace shower doors. Hiring a company that specializes in bathroom remodels ensures the job is done properly, without any leaks, or damage.
So, while there may be some upfront costs, did you know that installing custom doors in your home can add up to $1,200 to your total home equity?
Design Options
Custom shower doors come in many design options and price ranges. You can choose frosted or unfrosted glass, unique finishes, materials, and styles.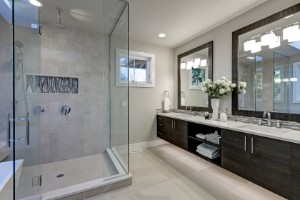 The glass is available in three sizes, including 1/4 inch, 3/8 inch, and 1/8 inch. Each of these depths is made of safety glass, which is inspected to ensure it meets specific criteria. So, if you can't afford the deepest glass cut, be sure that your glass has passed the same rigorous standards that the thickest glass has to undergo. Style options include frosted, smoked, pebbled, etched, and clear glass. Clear glass does not usually cost extra, while all other pricing options are additional.
Enclosures and materials can also be added to the total price. These options range from anodized aluminum that has a wood tone to chrome, silver, mirrored, gold, black, and painted colors.  Options vary depending on your location and the retailers in your area.
Framed and Frameless Models for Custom Shower Doors
Framed models have a sliding door setup with either a metal or plastic frame that encases the glass doors, while there is nothing but glass in the frameless model, plus the hardware connecting it.
Installing Custom Shower Doors in Your Home
Custom shower doors are more effective and sanitary than shower curtains because they help prevent mildew and mold from spreading throughout your bathroom. The company you hire to install the doors will take all the necessary measurements to properly fit the doors to your shower, ensuring the finished installation looks professional. This means no more puddles on the floor after your shower! Whatever your choice, remember that a bathroom should be a comfortable place to visit.
For custom shower doors, Pleasanton Glass is the company you can trust. Let's talk (925) 261-7144  and get a free in-home estimate right away.