Glass shower doors have become the standard in bathroom design—which is not all that surprising when you compare them shower curtains. They're simple to operate, long-lasting, easy to maintain, and more aesthetically pleasing than any shower curtain found on the market. In fact, their clean, minimalist design is one of the main reasons why homeowners prefer glass shower doors and frameless shower doors over all other options.
On that note …
Whereas glass shower doors are now the norm, frameless shower doors are the new trend. These fairly newish shower doors do not have the framing and excessive metal hardware we're used to seeing with regular doors—a feature which allows them to seamlessly blend in with the entire space.
Are you considering upgrading your bathroom with a frameless shower door? Here are some pros and cons to help you decide if it's suitable for you.
PROS
1. Frameless Shower Doors Look Beautiful.
Because they have edges that are covered in rubber or any type of sealing material, framed shower doors tend to look bulky and unappealing. Even the best designers have trouble hiding a framed door's edges or making it work with the room's overall aesthetic.
With a frameless shower door, you won't have to worry about working with such eyesores. What's more, the lack of obvious lines will ensure your bathroom space always has that fresh, clean-cut look. If your shower tiles have detailed, intricate designs or they come in a darker, more aggressive color, this door will work especially well with your space. The lack of gasketing or frames will form a beautiful contrast.
2. Frameless Shower Doors Can Be Customized According To Your Preferences.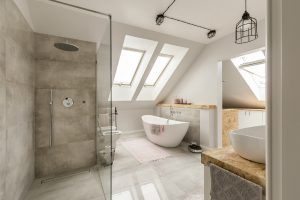 Most of the frameless models in the market right now are custom-made, which means not all frameless shower doors come at a standard size. This gives you more flexibility when during installation. In fact, customization is actually one of the key factors when choosing a frameless shower door. For people with specially-sized or specially-shaped shower enclosures, custom sizing is a godsend.
However, you need to take note that custom-made shower doors are pricier. They could end up costing you a lot more if you change your mind halfway through your bathroom renovation project—which is why it's so important to make a choice you are 100% happy with.
CONS
1. Function May Be Sacrificed If You Chose Frameless Shower Doors.
Although frameless shower doors have a competitive edge in terms of aesthetics, they can sometimes fall behind when it comes to delivering performance.
Framed shower doors often come with seals made of rubber or any other material around the edges to prevent leaks. Unfortunately, frameless shower doors don't have these protective barriers around them. Unless your frameless shower door is perfectly cut to fit, you can have gaps that allow water to leak through the enclosure and out onto your bathroom floor.
2. Frameless Shower Doors Can Break (Although It Happens Rarely)
This is not something you should worry about too much, but it's also important to know that frameless shower doors can shatter. Lack of a frame means that the glass is more vulnerable to just flying apart.
But you'll be happy to hear that many manufacturers have taken steps to address this issue. Most frameless shower doors currently on the market are now made of tempered glass—a material that is designed to break into smaller pieces as a safety precaution. While small pieces of broken glass can still hurt you, there is a lesser chance of suffering a major injury compared to larger shards.
All in all, we do love the look of a fresh frameless shower door. It's effortlessly classy, stylish, and very easy to maintain. For homeowners who love a no-muss, no-fuss bathroom feature, a frameless glass door is the most obvious choice for you.