We've all seen or used a shower enclosure framed in polished brass but there is a wide array of other options you probably haven't known yet. Whether you prefer framed or frameless, it's important to have a shower door replacement that matches your style and needs.
Are you planning to spruce up your bathroom with new shower doors? To give you an idea of which type to get, below are some of the most popular shower door replacement options on the market right now.
1. Sliding Enclosure
If you want the aesthetic appeal of glass but don't have enough room for swinging doors, a sliding enclosure is the next best thing. This space-saving option is practical for most bathrooms and can be customized to fit the size and style that you want.
Homeowners looking for a more budget-friendly option may want to try a partially frameless sliding door, which gives an airy feel without you having to spend a huge chunk of your savings.
2. Glass and Tile Enclosure
For a more open look, a frameless glass door with tiled walls is an excellent addition to your bathroom. A tiled wall surrounded by frameless glass windows not only offers a bigger feel on the inside but also helps more light to get in.
3. Textured Glass Enclosure
Do you want an extra layer of privacy without the frosted look? Then consider a textured glass shower door. Different textures provide your door with more depth; with water running down the glass, you'll feel like you're in the spa. Also, textured glass gives you a see-through effect while still masking little details so your bathroom will look larger than it actually is.
4. Aluminum and Glass Enclosure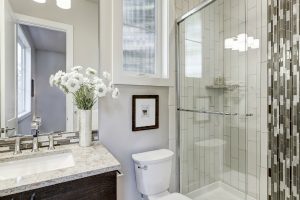 When it comes to shower door replacement designs, it's not a bad thing to be unique and go out of your comfort zone. Glass panels set into a frame made of aluminum look like French doors that give your bathroom a one-of-a-kind ambiance. Using dark metal with glass gives your shower doors an eclectic feel.
5. Glass Block Enclosure
If you want to take your shower doors to the next level, a glass block enclosure is a popular choice. Glass blocks can provide the privacy you want without the need for a door. With several textured patterns to choose from, glass block surrounds have strong lines that offer a cleaner and cooler look for your space.
6. D-Shaped Enclosure
D-shaped shower enclosures can make a bold statement in any bathroom.  This type of enclosure only requires one flat wall to fit the enclosure instead of using two wall spaces in one corner. It also gives you a unique look as you can add various kinds of metal hardware for more style.
Shower Door Replacement by Professionals
With lots of styles to explore, selecting the right shower door replacement can be quite intimidating. It's best to discuss your options with a professional glass company, especially if you're considering a custom-designed enclosure. An expert's advice can help you determine which type of door would match your needs and preferences without breaking the bank.