Glass is a popular material in making shower doors. It looks modern, takes up little space, and relatively easy to maintain. As a covering, glass doors provide better protection from cold drafts and help keep the other areas of your bathroom dry while you take a shower. Glass shower doors also come in a variety of designs that will suit every interior style. Other benefits include:
Glass makes a small space look bigger. It's a timeless design element that will look good for years to come.
Most shower door suppliers offer custom options. You can personalize the shower door according to your preference and the dimensions of your bathroom.
A glass shower door is easy to maintain in terms of cleanliness. A bit of elbow grease and a glass cleaner is all you need to remove stains and grime.
These benefits, along with the aesthetic appeal of frameless shower doors, are compelling reasons why they are more popular than the other types of shower coverings. However, one particular drawback of glass is that it offers little to no privacy. And if privacy is important to you, we will discuss ideas on how you can maximize glass door privacy.
How to Make Glass Shower Doors More Private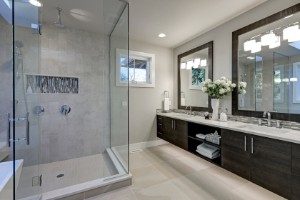 Whether you're planning a retrofit or currently in the process of renovating your bathroom, these ideas range from most convenient and economical, to something that will require a little bit of effort. With some help and creativity, you can find the option that works best for your bathroom.
Frosting Glass Doors
Frosting involves different techniques that aim to obscure the clear appearance of glass. You can get a custom glass shower door that's already frosted, hire a professional, or you can DIY the project using different techniques. The easiest way to frost glass is by using frosted paint. Another method is by acid etching, but this will require advanced skills since handling acid can be dangerous.
Adding a Window Film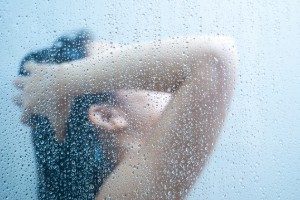 A window film is similar to wallpaper, but for glass. Not only will it make your shower more private, but it can be another decorative element to the room. These films are pre-made and available in different designs and sizes. If you can't find the right size, you can easily cut the film for a perfect fit.
Install Window Clings
Similar to a film, a window cling is a decal for car windows. Any decal meant for car windows will also work for glass doors. You can choose different patterns and design your shower door according to your preference, while at the same time also maximizing privacy.
In addition to these ideas, you can also make glass shower doors more private by putting up a curtain or a folding screen in your bathroom. However, these will only work if your bathroom is spacious. Glass doors are supposed to make your bathroom shower look sleek and stylish. If you want to adopt any of these ideas, make sure to keep the design elements minimal and functional to prevent cluttering the space with unnecessary accessories.
Running out of ideas? Check out the most in-demand shower door replacement choices here!