When you need to call someone for certain products or tasks, it's usually a matter of calling the one you prefer dealing with, or the one whose services you know you can count on. The same can be said when calling a glass company to handle window replacement, or whatever tasks you need done. But what happens if you haven't had the chance to choose just the one?
You'll likely find more than one company that serves your area, but you'll also want to take some time and find out all you can about them. After all, you don't want to settle for mediocre work that isn't at all what you paid for. You want to be confident that whatever it is you had your chosen glass company do, it'll last.
That said, here are a few things to keep in mind when choosing the best company for your needs.
Look at Their Licensing
As with many other professional services, those that do glass work need licensing to show that that they can legally perform the service you're looking for. Licensing requirements vary across the country, though, so make sure you take a look at your city's requirements as well to see if your chosen company fulfils those licensing requirements.
Don't be afraid to talk to the contractors you're interested in working with and ask for proof of their licensing. No reputable glass company will have any reason to refuse.
Ask About Experience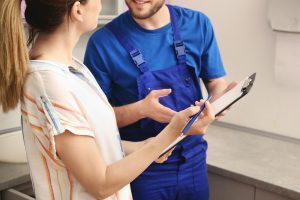 The company you choose should have several years of experience in the industry, not to mention should be able to handle a broad spectrum of tasks.
For example, residential glass repair is different from commercial. If the company you're looking at focuses primarily on the former but what you need is the latter, then you'll be better off hiring a different one. Experience in one doesn't automatically translate to the other, after all.
Learn What They Know
Besides experience, your chosen company should be quite knowledgeable of the type of glass that's needed for one task compared to another. Glass comes in several varieties now, and the company you eventually hire should know which one to use for best results.
Find Out How Employees Qualify
You don't want to choose one particular company and later find out that their employees aren't as trustworthy as you'd like, or else weren't properly evaluated and therefore aren't completely qualified to take care of the task you need them to. Find out if they have all the training they need to handle the work you want done.
Check Out the Reviews
You'll obviously want to go with a company that has a great reputation, and the internet has helped make that easier since you can find both good and bad reviews. Try and read a good number of reviews for each company you're interested, so that you can learn as much as possible about them and you'll know what to expect.
Reading both positive and negative reviews is a good idea because not only will you get a feel for what each company does well, but you'll also know if the company is taking steps to make up for their previous shortcomings.
This may seem a lot of work just to look for and choose the best glass company for your needs. Don't worry – all the effort will be worth it when you see how smoothly the job goes and how quickly it gets done, without you worrying about calling the contractor back for a do-over because something went wrong.