As much as you'd like to think that everything in your house will last, the truth is that something will need replacing at one point or another. Remodeling a bathroom, for example, means replacing or upgrading the shower doors to reflect the change, and you'll need to make all kinds of crucial decisions while doing so.
Whether you're getting a new door, or you're pondering glass shower door replacement, the process isn't always as easy as it seems. Some of the details you need to know include the space between the fixtures and the shower. You also need to keep overall aesthetics in mind. Will a frameless shower door you saw on a home design blog be a good fit, or will you have to choose a different style?
Before you even think of driving to a store or ordering online, there are certain things that should be considered when shopping for a glass shower door. Check them out below:
Customization
A frameless shower door can be customized according to the design you want. Because most custom glass shower doors are frameless, you are not limited to mass-produced shower doors that are sold at a standard size, allowing for more flexibility during the installation process.
Cost
Customization is, in fact, one of the most vital factors you should think of when buying a frameless shower door. Although custom enclosures are beautiful to look at, it's worth noting that it also comes at a higher price. They generally cost twice as much as ordinary, metal-enclosed types. This means you'll need to have a larger-than-average budget if you want to go for custom glass shower door replacement.
Thickness
The thickness of glass to be used on the shower door depends on the type of shower door you will choose. Take note that the four most common thicknesses of glass panels are 1/4″, 5/16″, 3/8″, and 1/2″.
The thicker the glass panel the less support and framing the glass will need. That's why most frameless shower doors will have thicker glass panels compared to thinner ones.
Type of Glass: Tempered Vs. Laminated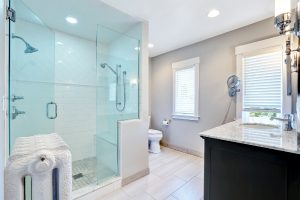 Most shower doors these days are built with tempered glass–a kind of safety glass that breaks into small, round pieces when shattered. Because there aren't any sharp edges, the risk of cutting yourself when picking up the broken pieces is much lower compared to that of regular glass.
Sometimes, laminated glass is also offered as an option for custom-built shower doors due to its durability. Tempered glass is still the safer option, though.
Selecting the Perfect Door
Do you want to give your bathroom an upgrade? With the right glass shower door replacement, you can significantly enhance your bathroom décor without changing too much.
If you're having a tough time searching for a shower door that fits your space or matches your budget, consider a custom-built unit. It helps to create the right ambiance for one of the most-used parts of your home. Also, being given the freedom to choose your own door finish, glass, and type gives you the opportunity to give your bathroom a truly unique touch.