Glass doors come in a wide range of fittings, styles, textures, shapes, and sizes.
Despite this, they share one thing in common: aesthetic appeal. No other material can replicate the beauty and elegance of a glass door.
Selecting one for your home can be tricky, though. It's a major investment, and you can't just buy the first glass shower doors you see in the catalog.
Make a wise decision and check out these tips to remember when shopping for glass doors:
Tip #1: Select a type of glass.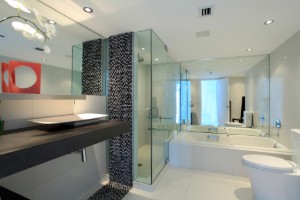 Many homeowners are going for clear glass enclosures because of its contemporary look. But, take note that there are plenty of options on the market. Textured, patterned, or frosted glass can add an element of interest to your space while maintaining privacy at the same time.
If you want clear glass, take note that it can still have a bit of a color tint. Some clear glass doors can appear slightly green or blue because of the tempering process. The thicker the glass, the more noticeable the hue will be.
Tip #2: Pick a style.
Look at the space where you will put the shower door. Is it a narrow stall shower? If so, then consider installing a pivoting shower door. If you've got a wider stall, then a sliding shower door would work well. Are you covering a bathtub? Get a sliding tub door instead. Be sure to find a style that matches your existing bathroom.
Tip #3: Set a realistic budget.
Talking with a professional gives you an idea of how much budget to set aside for your dream bathroom. Discuss the costs of materials and installation. To get an estimate, a technician or estimator will measure your bathroom. Since each home is unique, different factors will affect the final quote.
Tip #4: Get a glass coating.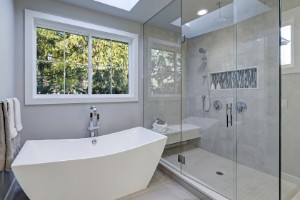 Adding a protective coating to your glass doors ensures its beauty will last a long time. Various types of coating often include warranties against scratching, soap buildup, and discoloration. Although this add-on is a bit expensive, it comes with many benefits. A shower coating makes it easier to clean the glass, saving you more time on daily maintenance.
Tip #5: Consider a custom-made unit.
So you've scoured all the design websites you could find and still haven't found one that matches your vision. If this is the case, you can always take the custom route.
With a custom-made unit, you can select your own finish, frame, door type, and glass. You are free to add a personal touch to your enclosure.
If this sounds like a great, viable idea for you, hire a glass installer with experience in creating custom-built enclosures.
Why Invest in Glass Doors
Have you decided to give your old bathroom a makeover? Getting frameless shower doors is a great way to start. Glass enclosures provide a sophisticated look to any space. Plus, it eliminates the need for over-the-top decorations. All you need is a glass door to make a massive impact on your design efforts.
While the tips above can help you get started, it's best to get glass door advice straight from the experts.
Call your trusted glass company today and learn more about your options.