The bathroom is an area of your home that you see and use every day. Creating your perfect bathroom oasis with stunning design and the inclusion of modern features makes sense. Frameless glass enclosures for showers, steam showers, and tubs are the best choice for flawless and modern design.
While the glass shower doors of the past required a metal frame that could rust or break, frameless glass shower doors add a minimalist touch for stylish protection with a 'barely there' effect. Here we look at 3 reasons why you should choose a frameless shower enclosure for your new bathroom or bathroom remodel.
1. Open Up Your Space
With new homes trending toward more compact design, high performance and efficiency are essential for making the most of the space you have. Bathrooms are an area where space can be in particularly short supply. Frameless glass shower doors and dividers are completely transparent, with no frame or heavy construction to fill the space. This helps to open up the space in your bathroom so your vision travels right through the glass to the view beyond.
In some bathroom designs, the shower can take up most of the available space. While solid or opaque shower enclosures close down this space and make your bathroom more claustrophobic, transparent glass construction is the perfect way to keep your bathroom space wide open, airy and light.
2. Let In Light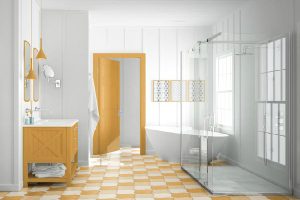 Another great benefit of frameless shower door enclosures is that they allow light to travel right through your bathroom. As small, closed spaces, bathrooms need natural light in order to feel healthier and more spacious. Whether your bathroom features a window or a skylight, a glass shower enclosure allows the light to easily travel through the space without obstruction. Your shower can even be completely enclosed with a steam shower enclosure, but your bathroom will still look light and open thanks to the frameless glass design. While framed glass also allows light to travel through, the frame can add an obstruction that spoils the flawless look. Frameless glass doors and dividers are the ideal way to let light in while keeping your bathroom stylish and modern at the same time.
3. Show Off Your Bathroom Design
Because frameless shower doors and enclosures are minimalist, they leave the view of your bathroom absolutely unobstructed and unhindered. When you invest in a stunning bathroom remodel, you want the design of your bathroom to be fully enjoyed and appreciated. By providing a completely transparent view with no bars, structures or frame, floating shower doors allow you, your family and your guests to fully appreciate the design of your bathroom.
Frameless shower doors can allow you to show off any particular pieces of artistic design in your bathroom, from fine tile work to innovative structural design. Maximize the benefit and enjoyment from your new bathroom with frameless shower enclosures to showcase your design.
Frameless shower doors and enclosures are the leading choice for new bathrooms to create that open and light feel that really make the most of bathroom design. Contact your local glass specialist to find out how to creatively use frameless shower enclosures for outstanding results in your bathroom.