Glass shower doors have been around since the mid-20th century. They are a popular choice for homeowners due to their versatility and functionality. Aside from being sophisticated-looking, they are also easy to clean and maintain.
Let's take a closer look at the history of shower doors and how they were manufactured back in the day.
Design Evolution
The standard glass used in home windows failed to perform well when used in shower stalls. Hot water can cause cracks, which shatters the glass easily, making it an unsafe option for bathrooms. Thankfully, a French scientist named Edouard Benedictus invented safety glass in 1903. He found that manufacturers could prevent shattering by combining glass and cellulose nitrate. This invention was further improved by the safety of products that range from motor vehicles to cookware.
From 1900 to 1910, more glass formulas were successfully developed. An Austrian chemist designed and patented tempered glass, which paved the way for a more durable enclosure.  Benedictus went on to discover that he could improve an object's durability by combining polyvinyl butyral with dual glass coatings. Years later, this specific material was used to build a shower enclosure.
Glass Showers Back in the Day: How They Looked Like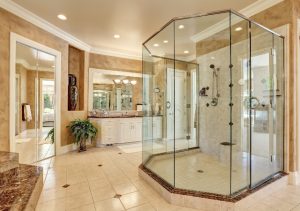 A company in Ohio is the first in history to create shower stalls with transparent walls and doors. The same firm started using tempered glass for these enclosures in 1963. It's 500% more rugged than the traditional window with the same dimensions. Compared to the modern products we're currently using, all enclosures back in the day had frames.
Later on, sliding and swinging doors started to enter the market. Consumers were initially drawn to their functionality, as they prevented slippery floors and were easy to maintain. Plenty of light can also get in, thanks to the transparent surface. More homeowners became more interested in glass because they wanted more stylish and luxurious bath areas.
Dawn of Frameless Doors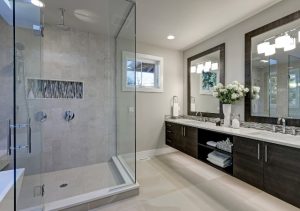 1970 marked the year when frameless shower enclosures were introduced in the market for the first time. They were more visually appealing because of the absence of rubber and metal materials. Wall tiles can be seen without the need to open the door. Frameless designs also make cleaning simple—it attracts less mold and grime because of its smooth surface.
Frameless shower doors have been around for over four decades, and it's no surprise why. They gained more popularity in the past decade, especially for middle-class homeowners wanting to improve their bathrooms.
In early 2014, frameless shower enclosures were named one of the top five bathroom design trends by Apartment Therapy. This major shift has inspired consumers to buy more showers, and this trend benefited the glass industry.
Installing Shower Doors in Your Home
Are you planning to get shower doors in your bathroom? Or do you simply want to spruce things up and replace your old-looking enclosure with new doors? No matter what the circumstance is, getting bathroom enclosures is an ideal way to give any space a modern touch without sacrificing convenience.
Frameless shower doors are the best way to give your space a fresh and clean vibe and make the most out of your bathroom design. Get in touch with your local glass specialist to determine how to use shower doors for the best results.