Whether you noticed that it's time for a shower door replacement or you just decided you wanted to change your shower door, it amounts to the same thing. You still need to choose the new one you're going to have installed. The thing is, there are a number of options for shower doors to choose from, and these options can make you think twice about picking any one type.
To help make this choice less overwhelming, here are a few questions to ask yourself about certain features you should consider before you replace your shower door.
Should You Go for a Shower or Bath?
This may seem like a strange feature to consider, but hear me out; if you have more than one bathroom, you're not missing out if one of those bathrooms has a shower instead of a bathtub. In fact, you may not have as much time to soak in the tub, so it's fine if all bathrooms but one have just a shower stall. Then the bathroom with the tub gets reserved for those special occasions you have the time to relax in the tub.
But that's beside the point.
Replacing your tub with a shower means you can expand the shower area a little, giving you more room to move around. You may also find yourself less restricted when it comes to your choices for shower door replacement, since you don't have to account for someone climbing out of the tub.
How do You Want to Open that Door?
Don't get caught up in paying attention to only one kind of door. As far as shower door replacement goes, you don't have to stick to the opening style of the original. If you had a swinging shower door and now want to try a door and panel enclosure or a sliding door, then go ahead. Make sure, though, that your bathroom's floor plan can accommodate the kind of door you're considering.
Frame or No Frame?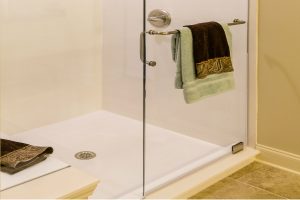 If your home was built quite some time ago, it's likely overdue for an updated look. The bathroom is a good place to get started. Choosing between heavy glass doors or frameless glass doors is a good first step to updating your bathroom.
Just as you don't need to stick to the same kind of door opening style, you also don't have to keep to one type of door. You're free to go with a frameless glass door for your shower door replacement, if the old one had a frame – and vice versa.
Take a Look at Your Hardware
Whether you're going with a framed shower door, a heavy glass one, or a frameless one, you'll still need to decide how the hardware – such as the door handle – will look.
There are quite a few options for colors and finishes available; from shiny chrome to no-nonsense brushed nickel to quietly sophisticated rose gold. Even if there are just a few 'pieces' of hardware involved in your shower door replacement, you'll still want to consider how they'll work with the aesthetics of your bathroom.
Have You Picked out a Pattern?
Why have a shower curtain for privacy when your shower door can do the same while looking more stylish in comparison? Some companies offer several patterns and textures, so you can really spruce up your bathroom without potentially obscuring any one area. Some might even offer different colors for you to choose from – which is great if you're going for a certain color scheme for that bathroom.
As you can see, keeping these in mind when planning a shower door replacement will help you narrow down your choices – or, conversely, open you up to options you didn't know were possible. Whatever the case, don't hesitate to ask an trusted glass company expert for help and advice so you're sure to pick a shower door that best fits your vision for that bathroom.