Frameless shower doors are a popular choice among homeowners these days. Although these doors come at a premium price, they offer lots of excellent benefits you can enjoy. For instance, installing glass doors over a bathtub or a tub-shower enclosure adds an accent to any bathroom as well as stops water from damaging the floor.
So if you're tired of dealing with a mildew-stained, leaky curtain on your shower, getting a frameless shower door might be the best solution.
Installing a Frameless Shower Door Over a Bathtub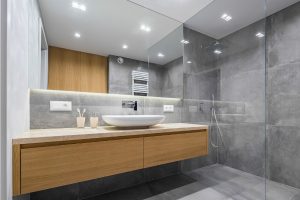 Whether you plan on using the traditional or contemporary style, installing a frameless bathtub door is easier than most people think. However, the process might be more than a beginner can handle.
Knowing which tools to use and how to use them properly are the first steps to beginning the installation. Another great way to make your bathtub door installation a better experience is by getting help from a friend or family member with project experience.
For people who often do DIY projects, any job can be easily done with access to the right tools and clear instructions. Some examples of home improvement projects that are similar in complexity would be an under sink garbage disposal or ceiling fan installation.
All the same, it's better to call in professionals to take care of installing your shower door because of the materials involved. Also, companies that sell glass doors aren't about to let homeowners cut the glass to be used in the project.
You'll want to make sure you measure the space you want the glass door to occupy so the measurements are as accurate as possible. Then that'll be one less thing for the contractors to worry about once the time comes to install the door.
Yes, You Can Mount a Frameless Bathtub Door But…
Frameless sliders can be mounted over tubs but they are generally problematic. They tend to leak and cause water damage, so you're better off with these alternatives:
1. Semi-Frameless Hinged Bathtub Door
Clear glass-style shower enclosures are becoming a trend these days. Choose a hinged door that's secured by a stationary panel to create a barrier for your tub. There are models with a stainless handle that can resist rust. These kinds of doors are also equipped with a rubber strip shower screen seal that redirects water back into the tub.
2. Clip-on Sliding Bathtub Shower Door
Clip-on bathtub doors can be installed within minutes using the common tools you have at home. There's no need to glue, caulk, cut, or drill. This option works best for people who really need a frameless bathtub door but don't want to invest in problematic permanent glass doors.
3. Leave the Bathtub Open
With no frameless shower door, you don't have anything to clean and maintain. It also helps make getting in and out of the bathtub easier since there are no doors to pass through. The only problem with this is that you won't get the same level of privacy you can get from a brushed glass door or curtain.
If your tub isn't properly designed, leaving it open will make it prone to water spray that can cause mold and mildew.