Today's bathroom mirrors aren't just installed for their functionality; they're also chosen and lauded for their visual appeal. Their versatility and elegance make them a perfect fit for most any room. For this reason, many homeowners look to install new mirrors to improve their bathroom's overall appearance.
As another home investment, homeowners like yourself must take considerable time in choosing the right bathroom mirrors. To help you out, here are six questions to ask yourself:
1. How much am I willing to spend?
First and foremost is your budget. It's best that you figure out how much you're willing to invest in your bathroom mirrors before you start canvassing your selection. It might seem like overkill, but a lot of those fancy, gold-gilded mirrors you might be eyeing come with a hefty price tag. Creating a budget lets you define your minimum and maximum spend. To do this, you can do some research of your own to find out the going market prices. Alternatively, you can also ask your local home depot or glassware company for help in finding ones that are within your price range and your preference.
2. Which contractors should I hire?
DIY mirror installations may look easy on YouTube videos, but doing your own installation without prior experience and expertise may lead to accidents that can not only damage your mirror but cause injuries. Leave installations up to expert glass companies and technicians.
On that note, make sure you hire licensed, professional contractors. Ask to see their credentials, such as their business license and relevant permits, to ensure that they're operating legally. You also might want to check their service and product warranties to make sure you're legally protected.
3. What sizes are available?
It's very important to ask about the sizes of the available mirrors; the right mirror should be able to bring the perfect visual balance to your bathroom. You should also take into consideration the mirror's purpose. For instance, if you're buying a mirror to complete a vanity, the mirror should be smaller than the vanity cabinets to avoid an uneven and off look. You can also choose one that's the same width as your vanity so that they're perfectly aligned.
If you have the budget for it, we recommend hiring a glass company for your own customized mirror. Going with pre-fabricated mirrors is fine, but if you want one that perfectly fulfills your aesthetic, your vision, and your bathroom's dimensions, it' s better to get a personalized piece.
4. Which style should I get?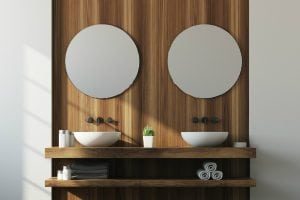 Your mirror's style will largely depend on the look you are aiming for. Today, frameless mirror are typically used when aiming for a modern or minimalist look. They also cost a lot less, making them easier to buy.
If you want a framed mirror, try a frame with a simple design that's only a few inches wide. You can choose from several frame materials like wood, glass, copper, acrylic, stone, or aluminum. For a classic look, opt for wooden or copper frames. If you want some color and creativity, opt for acrylic. For a classier, more subdued look, try stone.
You can also choose the finish for your framed mirrors. Opaque finishes are typically used with aluminum, copper, or glass frames. Glossy finishes are perfect for wood as they can produce a dramatic effect because of the sheen and ability to reflect light. Matte finishes are also an option.
Another aspect of style is the shape. Most bathroom mirrors are rectangular, but shapes may vary from this to oval, circle, or even hexagon and octagon. Some other custom shapes can be fabricated, but you should expect extra charges for this.
5. Will it fit my wall area?
After you've narrowed down your options, you can finalize your choice by selecting the pieces that will best fit your walls. As earlier mentioned, the mirror should not exceed the size of the vanity. This area includes your sinks, should there be sinks installed. Custom mirrors can help you choose the one you like best without compromise.
6. How Many Mirrors?
Normally, you could mount several smaller or slimmer mirrors if you have a wide vanity. Alternatively, you could choose one large mirror or two individual, identical mirrors. If you've got two sinks installed, two mirrors would work best to give you a balanced, symmetrical look.
However, having two mirrors will obviously cost more. They may look convenient and pretty, but make sure it's still within your budget—especially if you plan to have mirrors with extras like specialty frames and finishes.
7. How much will it cost overall?
After all is said and done, the only left thing to do is tally costs. The glass, glass coating (if applicable), frame material, finish, and other extra or customized jobs will factor into the final price. Basically, the larger your mirror and the more additions you avail, the bigger your charge. Quality labor doesn't come cheap.
Bathroom mirrors greatly affect the overall ambiance and look of your space; hence, it's important to choose wisely. Practical advice from a professional glass company: don't compromise quality over cheaper costs. If you have a tight budget, you can still get a quote for your desired product so that you'll know how much to save up.