Looking for an easy, cost-effective way to spruce up your bathroom? Bathroom mirrors are quick, cost-effective, and essential pieces of furniture that can double as classy décor. You don't have to stick to the traditional rounded rectangle or square-cut piece of glass you're used to seeing in other bathrooms. Give your bathroom a sense of style be playing around with the mirror, and get ready to be amazed by the results.
MIRROR WALL
Don't know what size your bathroom mirrors should be? Skip the conventional and go for creatively classy by transforming the wall behind your sink into one full-sized mirror. You can work with a professional to piece together simple framed mirrors until the entire wall is covered (this adds a cool, symmetrical grid-like effect) or you can get a mirror custom-fit to your wall.
If turning the entire wall is a little much for you, opt for a full-length dressing room mirror or an oversized mirror instead. Either way, this is a great decoration tip to make your small and stuffy bathroom feel larger and classier.
ROUND MIRRORS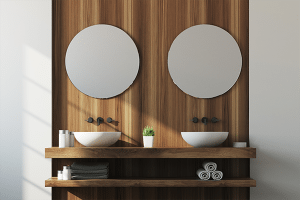 Square mirrors and rounded rectangles can feel a little dated. Choose mirrors shaped like circles or oblongs for a more modern minimalist look.
One big circled mirror above or behind your sink can make your bathroom look elegantly distinct. Meanwhile, multiple smaller circled mirrors dotting the wall can give off a playful but casual vibe. Choose whichever one works best for you.
SCULPTED MIRRORS
Due to the popularity of "themed" rooms, there are tons of uniquely-shaped bathroom mirrors out in the market right now. From seashell-shaped glass to asymmetrical, avant-garde designs, there's probably a mirror out there to suit any motif. If you're going for a classy look, we recommend the oddly-shaped ones; they add flair to a minimalist bathroom and can act as an interesting focal point.
ILLUMINATED MIRRORS
Instead of placing overhead lights above your mirror or adding bathroom lamps, place the light behind your mirrors. Not only does this keep your walls looking clean, it's great mood lighting. For women, this kind of lighting is especially advantageous for putting on your makeup.
GILDED MIRRORS
Gilded mirrors have thick, intimidating golden frames. If overdone or paired with other gilded or decorative items, the result can look a little loud and gaudy. However, gilded mirrors are perfect for soft, simple bathrooms that make use of solid colors and clean, straight lines. To complement, add small accents with touches of gold, like a golden stripe across your towel or a golden handle on white vanity drawers.
TRIPTYCH MIRROR
A triptych mirror is one of those old Hollywood dressing room-style mirrors that are comprised of three segments. The biggest piece usually goes in the middle and is flanked on both sides by two pieces of the same height, width, shape, etc. This was a popular choice amongst actors because it allowed them to see every angle of their face.
Give your bathroom a touch of the 80's with an antique triptych mirror. The symmetry makes for an interesting focal point and the design will certainly add classy vintage vibes to your bathroom.
>> Read These 3 Easy Ways To Stop Your Bathroom Mirror from Fogging Up
DEEP WOODEN MIRRORS
Bathroom mirrors with wooden frames work well in bathrooms decorated with neutral colors. Opt for a rich mahogany style or anything that has a deep, earthy color. We also recommend choosing wooden frames that extend one or two inches forward, so that you have a handy little shelf to place small items. As far as the shape goes, you can't go wrong with a patented round rectangle, but if you're feeling adventurous, choose an oblong or circle.
As you can see, bathroom mirrors aren't just vanity essentials. They contribute to the aesthetic of a room. A well-chosen, well-placed mirror can add class and character. Although they look better when complemented with pieces of furniture, trust us when we say that mirrors can definitely hold their own. Ergo, it doesn't matter if you decide not to decorate your bathroom with classy trinkets or dainty décor. Just choose a great mirror and the room will literally fall into place.