Most homeowners find wooden doors—whether they're single swingers or huge double doors—to be safe, classic, and very practical. However, in most modern homes, they can look a tad bit dated, especially when viewed against a contemporary backdrop. Ergo, more and more people are transitioning over to sliding glass doors: they're elegant, efficient, and can be just as diverse in design.
Frosted Panes with Thin Black Frames
When choosing glass door designs, most people go full transparent. We do see the minimalist appeal to the illusion of there being nothing separating your living room from the rest of the house—or from the outside world, depending on where you want to position your door. Dare to be different by selecting frosted glass rather than translucent panes for the whole door. Keep the minimalist vibe by using thin frames in solid black to create a nice, sleek contrast.
Sectional Sliders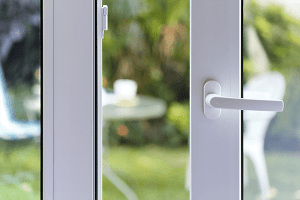 Instead of the typical folding-door style that most homeowners adopt, use sectional sliders that slide and stack on top of each other. These kinds of sliding glass doors are great for living rooms that open up to the pool, as they can look like classy floor-to-ceiling windows when closed. Go with translucent glass for a stunning view and lots of natural light. Complete the look solid-colored roller-type window blinds.
Dark Glass, Steel Edges
Make your living room look like the office of a rich, powerful, bold charisma by setting dark, tinted glass in steel frames. This contemporary design will come off as effortlessly sophisticated if you've got dark-colored carpet or off-white floors. If you've the budget for it, make the sliding door floor-to-ceiling glass to really complete the look.
Wide Door, Sleek Framing
If floor-to-ceiling isn't your thing, go the opposite route and opt for wide sliding glass doors—transparent or tinted—set in sleek frames. For the modern minimalist, transparent glass framed in solid white, grey, or black can make your living room look high-end and fashionable. Frosted glass set in pastel-colored frames—like faint teal or soft blue—can look fresh and whimsically chic. For a more casual, stated look, use rich, wooden frames and lightly tinted glass.
Black A Frame Plus Windows
A black A frame can look stylishly sophisticated yet oddly quaint, depending on where it's placed. For your living room, keep the top triangle transparent to let natural light shine through. For the actual sliding doors, you can't go wrong with translucent glass. If you have the space and budget, transform the whole wall into floor-to-ceiling sliding door, with the middle panels as the actual movable section and the outer-end panels fixed to emulate floor-to-ceiling windows.
>> Learn How to Adjust a Sliding Glass Door For a Smoother Slide
Transparent Tracts and Design Glass
Want sliding glass doors that really make a statement? Break away from clean, crisp lines and solid colors, and instead turn your door into décor. Frosted glass panes with modern etched drawings and contemporary designs can be bold and beautiful without being obnoxious. Instead of framing the panels, why not opt for an upper and lower tract system hidden inside? It's creative, original, and a great way to add flavorful flair to your living room.