Every house has at least one bathroom – it's a given. Depending on how long you've had your home, your bathrooms may or may not be starting to look a little dated. Or maybe you're just getting tired of looking at the same bathroom every day and are ready for a change. Do you really have to plan for a remodeling project when that happens?
The answer is – no. You don't have to spend a lot on remodeling your bathroom to get that different look you're, well, looking for. Changing the fixtures, adding a little decor, and even a few well-placed bathroom mirrors could be all you need to update your bathroom's appearance.
In fact, just changing the mirror and then tweaking the decor to match can do a lot to make the space feel refreshed even if you think you didn't do much. That said, here are a few of our favorites.
1. Use metallic frames against a light backdrop.
Frames with either a gold, bronze or brass finish will do a lot to make bathroom mirror pop when the background is a light, solid color like white. The light-colored walls and mirror, together, will make the space seem brighter and cleaner.
If you want to go a step further, you can use fixtures like towel rods and shelves with the same finish as the mirror frame to make the bathroom feel more cohesive.
2. Work with offbeat color schemes instead of changing them.
Let's say you moved into a house with a bathroom that has a rather dated look – think color combinations that were trendy only for a season, then gave way to the timelessness of neutrals.
Instead of retiling the bathroom, work with the existing color scheme – starting with the mirror. For example, you could choose a frame that's a solid color and will complement the color scheme, like dark gray or black to contrast with mint green tiles. Or leave the bathroom mirror frameless and position it in a way that makes the space seem bigger. That way, the unusual color won't be as overwhelming as it would be in a visibly small space.
3. Go frameless.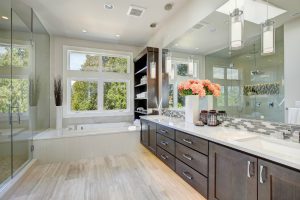 If you feel a framed bathroom mirror really isn't your style, don't worry; just swap it out for a frameless one! Positioning the mirror in a corner to make the space feel more open is a good way to start refreshing your bathroom.
4. Create a 'sunrise' mirror.
Who says you need to stick to bathroom mirrors with straight edges? If you have a large round mirror, you can make a DIY wooden shelf that cuts across the bottom portion. Optimally, it should be lower than the center of the mirror. Then you can put toiletries – a small jar of cotton balls, for example – or decorative pieces like an indoor plant on each side to further frame and accentuate the mirror.
5. Personalize your mirror.
Maybe your mirror has a plain wooden frame. Or it's frameless and you can't seem to find a frame you like that fits it. It's easy enough to stencil a pattern onto the frame or make your own frame using glue and tiny tiles. You can even get your family in on it so you get both bonding time and a bathroom refresh in one DIY project.
So if you're thinking of changing your bathroom's look, don't let a lack of funds or time – or both – deter you. A change in bathroom mirrors is often all you need to keep the space looking fresh.