We all love the look and feel of a fresh and modern home, but if you don't have the time and resources to have your home remodeled and don't feel inclined to take on the stress and work of a DIY job, it can seem hard to think of ways to update your home without breaking the bank.
Two of the most popular areas of the home to update are the bathroom and the kitchen, as these two rooms are used most frequently by all members of the family and can quickly show their age. Not to mention that bathroom and kitchen updates most often result in improvements to home value, making money invested in these two areas worthwhile. Other areas of the home that often get overlooked can be quickly and easily refreshed and updated to create the look of a renewed home without major work. Here we look at where updates are most often needed in the home, and how you can provide a cost effective and stunning solution without a hefty remodel.
Kitchen Overhaul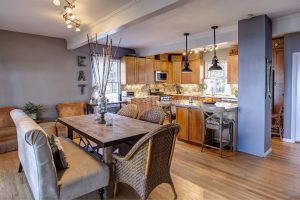 The kitchen is one of the most frequently used rooms of the house and one of the most popular rooms chosen for home remodels. If you want to refresh your kitchen but don't have the cash for a major remodel, it's not difficult to refresh your kitchen surfaces and totally change the look and color scheme without major structural changes.
Consider a painted countertop to provide the look of new granite benchtops without the price tag, and a new glass backsplash to brighten up the area near the cook top that's especially prone to discoloration and long term grime buildup. New appliances can also make a big difference to modernizing the look of your kitchen.
Open up kitchen space by installing open shelving or glass cabinets, to create the illusion of more space and openness without knocking out walls.
Bathroom Refreshers
The bathroom may be the most frequently remodeled room in the home, and for good reason. Bathroom updates and remodels give a great return on investment, but even if you don't want to do a major remodel, there's plenty you can work on in the bathroom.
Simply changing your shower enclosure by adding a new glass shower door or frosted shower door can make a big difference, especially to a small bathroom. For a larger bathroom, updating your tub enclosure can add a touch of luxury to your bathroom.
Even simply updating bathroom mirrors, or bathroom sinks and counters can make a huge difference to the appearance of a bathroom, while being a relatively economical update.
Open Up Your Space
For all the rooms in your home, create the illusion of more space by increasing natural light, opening up exterior windows, painting in light colors and adding mirrors where possible. Open plan is the name of the designing game these days, but if you don't want to knock out a wall, these are your next best options.
Update the Windows
Windows seem to be regularly overlooked by homeowners, but properly dressing your windows and allowing them to open and let in natural light can instantly change and transform a room. Update and repair windows if they are broken or chipped, and add stylish shades, blinds or drapes to accentuate your windows.
A Fresh Coat of Paint
A fresh coat of paint on the walls of your bedrooms and living areas can really do wonders to lighten up your home and make it look more modern, with no heavy construction or DIY knowledge required. Updating or installing closet mirrors on closet doors can amplify light in a room and create the effect of openness and space.
With these tips you can update the look and feel of your home to reflect a modern, clean and refreshed style, without a big budget or major remodel.