If you have glass shower doors in your bathroom that are part of a set of matching doors or a shower enclosure, you can be faced with a significant challenge if one of the glass shower doors breaks. The ideal solution is to simply replace the door or the glass that has been broken, in order to maintain your current shower door style and installation. However, with spare parts for shower doors not necessarily easy to come by, you may be wondering whether this is possible. Here we answer some common questions about glass shower door replacement, when it can help and the other options you might have.
When Your Shower Door Breaks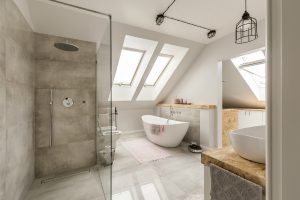 If one of your glass shower doors breaks, the first step is establishing safety. Tempered glass shower doors break into blunt pieces which won't cause damage, but if for some reason you have untempered glass in the bathroom, you will be dealing with a very difficult and dangerous clean-up. In this case, it may be better to call your local glass company for expert assistance with glass removal.
The next step is establishing why the breakage occurred. If your shower door is an older installation, there may have been loose, damaged or older parts that contributed to the breakage. But if your shower door installation is newer, there may be construction or material issues that led to premature breakage. Contact the manufacturer or installer of your shower door, or call your local glass expert to help determine the cause.
Glass Shower Door Replacement Options
If your goal is to replace just a single pane or component from your shower door, you may want to contact the shower door manufacturer to see if sourcing replacement parts is a possibility. However, replacement shower door parts are not always easy to find. In the case that you are unable to source a replacement part, your best bet is contacting your local glass company for a custom glass solution, to completely match the size, shape and pattern of your previous door. If your goal is to maintain your current shower door or shower enclosure set up, this is one of the best options.
When Do You Need A New Glass Shower Door?
If your shower door was already older and worn, you may prefer to simply choose a new shower door for your bathroom. Your local glazier can custom design a glass shower door from tempered 3/8 inch glass, for a lightweight and elegant shower door that's also strong enough to stand up to the rigors of long term use. With this option you can choose your own custom made semi framed or frameless glass shower door or shower enclosure that not only fixes the problem of your broken shower door, but can completely renew and refresh the feel of your bathroom.
Choosing the Right Option
Whether you should repair your existing shower door or completely replace it depends on the age of our shower door, your preference, and the advice of the glass expert doing the inspection or installation. By considering these factors, you can decide which option will give the best results for you and your bathroom.