Etched glass is a unique addition to any glass installation that adds artistic flair, dynamic interest, and a subtle level of privacy. While etched glass helps to obscure the view through the glass, it is not just a functional effect. Etched glass can also be highly artistic and add a unique touch of style and expression to your interiors. Etched glass in a custom glass enclosure is most commonly found in the bathroom, where strengthened glass shower doors and glass bathroom partitions are functional, attractive, and easy to clean bathroom features. Here we look at the ways etched glass adds a touch of creativity, style, and beauty to your home.
1. Design
Etched glass allows you to add your unique style and design to glass partitions and enclosures. Glass etching is a popular feature, often used to feature logos and names for businesses, or provide discreet meeting areas and partitions for offices. But glass etching can also lend unique and innovative designs to home installations as well.
Adding custom glass etching patterns to shower doors and steam shower enclosures can add a design feature to your bathroom, while also subtly obscuring the view through the glass. Etched glass bathroom partitions separate distinct areas of your bathroom while also adding a level of privacy with creative effect. Glass that has been etched with a pattern, theme, or design motif can add a style element that's truly unique to your space.
2. Artistic Expression
More than just adding a simple style or design to your glass, glass etching can truly create artistic masterpieces out of your glass installations. From soaring mountain panoramas to vibrant nature scenes, modern glass etching can offer incredible detail and stylistic diversity to really bring an artistic touch to your glass shower screens and glass enclosures.
3. Seamless Integration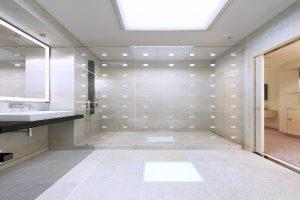 Do you want the privacy of a shower curtain without the hassle of a fabric curtain and rod? Prefer the easy to clean aspect of glass but want something more interesting than a plain old pane? Etched glass provides the ideal solution to offering more privacy and a subtle design for your bathroom glass while seamlessly blending into your bathroom design. Glass is neat and easy to clean, and glass etching adds the advantage of providing a pattern for added interest and privacy. Glass etching allows glass to blend in perfectly to your unique bathroom design.
4. Privacy
Glass etching provides a more creative and interesting way to add privacy to your bathroom without being heavy or closing down the space. Glass etching allows light to shine through, while obscuring the view, so you can enjoy the spaciousness and openness of a brightly lit room while effectively partitioning your room and creating privacy where you need it. Glass etching can be used to increase privacy for glass shower doors, shower enclosures, tub enclosures and room partitions, and can even be used for bathroom windows as a way to increase natural daylight while maintaining privacy.
Glass etching is an effective and creative technique that can be used in a range of different settings, and is perfect for creating a variety of privacy and style options. Whether used for shower doors, enclosures, or partitions, the integration of etched glass in bathrooms results in endless possibilities for attractive and eye-catching bathrooms.