After you've worked through the first step of designing your dream bathroom remodel, the next step is choosing the fixtures, features, fittings and accessories. Selecting the features and materials early on in the remodel process helps you establish a clearer vision for your bathroom remodel, and a more accurate budget for your project. Often, the process of choosing your fittings and fixtures can even help to shape and clarify your remodel plans. Here we look at what to keep in mind when you select the fittings for your new bathroom.
1. Style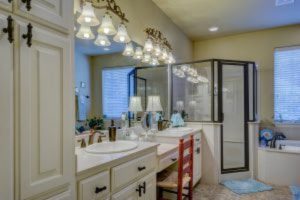 The first, and most essential step, is getting an idea of your intended style and decor. It can be helpful to browse remodeling magazines or blogs, or even look at the portfolios of designers and remodel contractors. Getting some inspiration as to how you would like your remodel to look can help you pinpoint your style.
Whether you're looking for a sleek, modern contemporary style or you love the classic beauty of traditional design, you can find bathroom fittings and fixtures to suit your unique taste.
2. Faucets and Sinks
Simply updating the sink and faucet in your bathroom and powder room can completely transform the room's appearance. There are so many options to choose from, including bridge or wall mount faucets, center set, single handle or spread set for faucets, while the options range from wall mounted to top mounted, under mounted, pedestal, vessel, vanity and glass when it comes to sinks. Don't forget about the vanity above the sink either. A new framed mirror, floating mirror or custom mirror is the perfect complement to your new sink.
3. Showers and Tubs
A shower and/or a tub are essential for a complete bathroom. Your shower or tub design can be anything from compact and practical sliding glass shower doors, to a luxurious and indulgent steam shower or jacuzzi. Choosing the right shower enclosure or tub enclosure is essential for the safety and practicality of your bathroom, as well as design and style. With curtains or glass, framed or frameless doors and a large number of door designs to choose from, it's worth taking your time to get the right shower enclosure for your vision and needs.
4. Tiles and Screens
The tiles you choose for your bathroom will determine the color scheme, pattern, design and overall style of your bathroom to a significant extent. It's important to carefully consider your tile choice, because it can not only dramatically affect the appearance of your bathroom, it can also impact your budget.
As a part of your bathroom design you may also want to incorporate glass privacy screens as structural features. Considering the design, layout and overall vision for your bathroom will help you make the right choice in regards to tiles and structural features as well.
5. Toilets
Of course, a new toilet is essential for every bathroom remodel as well. You can choose from a number of different shapes, sizes and designs for your toilet, and even a range of special added features such as built in bidet, toilet seat warmers and self-flushing capabilities. Clarifying your needs and budget, can help you find the right toilet for your new bathroom.
Choosing the right features and fitting for your bathroom remodel is not only exciting, it can also help you to better shape your plans and budget for your remodel, as well as the overall style vision.