Bathroom remodels remain one of the most popular and beneficial remodels a homeowner can complete. Bathroom remodels can vastly improve the comfort of your family and visitors, as well as add value to your home. When you're starting over fresh and remodeling your bathroom from the ground up, there's room for unlimited creativity in your bathroom design! In this blog series we take a closer look at the process of remodeling a bathroom, from design to completion. We start off with the design stage of bathroom remodels, and how to get every detail planned out from tiles and countertops, to mirrors, lighting and shower enclosures.
1. Capture Your Vision
Most homeowners start the remodeling process with a vision in mind of what they would like their completed bathroom to be like. The key is communicating these ideas and visions to the contractor or architect to incorporate into the remodel design. Clearly describing your goals and plans and working with a professional to produce a design that works in your space is critical for seeing your vision come to life.
2. How Do You Use Your Bathroom?
A great place to start developing plans for your bathroom is to look at how you and your family uses the bathroom. Do you need lots of mirror space to get ready in the morning? Want to create a spa-at-home feel with a steam shower enclosure? Or perhaps you have a large bathroom area that can be subdivided into different areas for privacy and style? Brainstorming these ideas can help you get a design that's not only appealing but meets your needs as well.
3. Plan A Budget
Discussing your budget from the beginning stages of your planning is crucial. Carefully plan what you would like to invest and where you want to prioritize in your remodel. Materials can be one of the more expensive aspects of a bathroom remodel, so talking to a materials provider like a glass or tile company can help you plan a realistic budget from the outset.
4. Design For Your Style and Space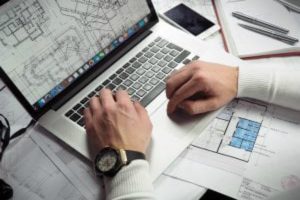 A double sink and vanity might not be the right fit for a small bathroom, while a large master bathroom can incorporate a greater variety of interesting design features like a larger shower enclosure, bigger mirrors or a free standing tub. Working with a skilled designer helps you plan a remodel that's more appropriate for your space, making the most of the space you have and including all the features you need.
5. Choose Materials
Planning your choice of materials in the first stage of your remodel process is essential to get more accurate plans for your remodel and to organize your project more effectively. Material choice can also define your budget more clearly. Talk directly with local suppliers to ascertain a clearer idea of material options and cost.
By taking these initial steps to plan your bathroom remodel, you can ensure a great start to your project when you're remodeling your bathroom from the ground up.