Glass is one of the most versatile, multipurpose, and adaptable design and construction materials for your home. With glass, the design possibilities in home design really are limitless as it can help to create open, airy spaces with a cool, minimalistic feel or it can showcase and compliment even classic, traditional designs. Glass is easy to clean and maintain and, with the proper glass type and fitting, is suitable for any environment. Here we look at 4 creative and innovative ways to use glass in your home design for a totally unique and stunning look.
Glass Surfaces
Glass surfaces offer a flawless, durable, and hygienic option for kitchen, bathroom, dining, and living areas. Glass surfaces can either be clear for a minimalist effect or painted for a flawless modern touch of color. Glass surfaces like painted kitchen backsplashes, shower enclosures, and mosaic tiles can create a seamless and polished appearance that is incredibly easy to clean and maintain.
Glass surfaces are usually made of strengthened or tempered glass so they can withstand greater force, impacts, or variations in temperature. Glass surfaces are particularly useful and beneficial for bathrooms and kitchens where flawless, modern, and easy to clean surfaces are often prioritized.
Glass Furniture
Glass furniture has been popular for some time as an option to keep a small space open, or to draw focus to a particular quality of an item of furniture. Glass tabletops can help to draw attention to the ornate base of the table as a feature in your dining room or living area. On the other hand, a full glass side table in an entranceway, mirrored closet doors in a bedroom, or glass shelving in any room helps to keep the space feeling open and spacious. While solid furniture can 'close down' a room, making it seem smaller and more cramped than it is, glass furniture allows even the smallest room to maintain its space and openness.
Glass Exteriors
Both homes and office spaces are using glass as an exterior material more frequently. Wall-to-wall exterior windows create a stunning effect and allow a unique view outside form the comfort of inside. With residential sunrooms becoming a popular, low-cost addition to many homes, the benefits of exterior glass have become even clearer. Whether it's a glass sunroom, floor to ceiling windows in the living room, or glass French doors off the dining room, glass can help open up your space and bring the outdoors inside. If excess sun glare and heat gain is a concern, tinted glass or Low-E coated glass can prevent heat gain and keep your home temperature controlled.
Glass Floors, Walls, or Railings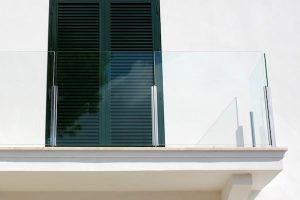 For a truly surprising and stunning effect in your home you could always add glass floors. Glass floors can be a creative solution for letting light into lower levels of your home or for showing off an outstanding wine cellar. But more frequently, homeowners choose to create interior glass walls and glass railings for balconies or even staircases. Interior glass walls can divide an open plan room for privacy and noise reduction while still keeping the space open. Glass railings allow for a stunning unobstructed view from your balcony.
With such a versatile and adaptable material, there are so many ways to use glass creatively in your home. With these just being a few of the many innovative applications of glass in home design, talk to your local glass specialist about finding more unique ways to include glass in your home.