Glass is an elegant, easy to clean and often essential component of bathroom design and construction. However, there are certain precautions and recommendations that should be followed when you install glass in your bathroom. Whether you are remodeling your bathroom, building a new bathroom or simply reviewing the design of your existing bathrooms, answering these 4 questions will help you establish whether the glass in your bathroom is safe, suitable and appropriate for your needs.
Is Your Glass Safe?
Glass looks stunning in the bathroom, but shattered glass in the bathroom is a disaster. Slippery surfaces, heat, and confined spaces all contribute to a heightened risk when it comes to glass in the bathroom. All glass that's installed in a bathroom is required to be tempered glass or safety glass to reduce the risk of glass shattering, particularly when exposed to heat. If you are remodelling or replacing the glass in your bathroom, it's important to check with your contractor that they are using tempered safety glass. This ensures your bathroom passes building codes and doesn't require replacing, while maintaining your safety while you use the bathroom.
Is Your Glass Private?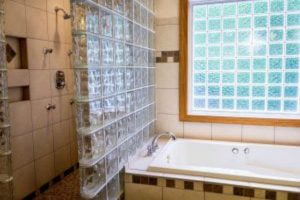 Many homeowners have built or remodelled the bathroom, only to want to replace their window glass immediately. The reason? The clear window glass provided a full view of all activity in the bathroom – something you'd rather not share with the neighbours! Put some forethought into the kind of glass you would like in your bathroom windows, whether it's frosted, patterned or shaded, in order to lend some privacy to your bathroom. Your local glass company can recommend an excellent selection of patterned glass to add to your bathroom windows, or frosting options to give you the privacy you need in the bathroom.
Is the Style Right?
The style and design of many modern bathrooms depends on the use of glass. Glass shower enclosures, glass dividers and glass steam showers are all features that are often incorporated into modern bathroom design. Ensuring you get the right type of glass, in the right style, shape or pattern for your bathroom can be challenging. By working with your local glass company, you can get custom cut glass for your specific needs, to bring your unique bathroom style to life. Whether you want a custom frameless glass shower door or shower enclosure, or the perfect glass screen for along your tub, your local glass company can provide the exact glass you need for your space.
Do Your Mirrors Fit Your Bathroom?
Mirrors are an essential component of every bathroom. But what if you can't find the right style or size of mirror that you really want? A specialized glass company can offer mirrors in any size and in a variety of styles and designs, with custom mirror mounting options to suit your needs. A mirror that perfectly matches your requirements and vision is just another option a custom glass company can provide for your dream bathroom.
By addressing these essential questions and with the help of your local glass company, you can get the right glass solution for outstanding safety, privacy and style in your bathroom.